Bellacord Hall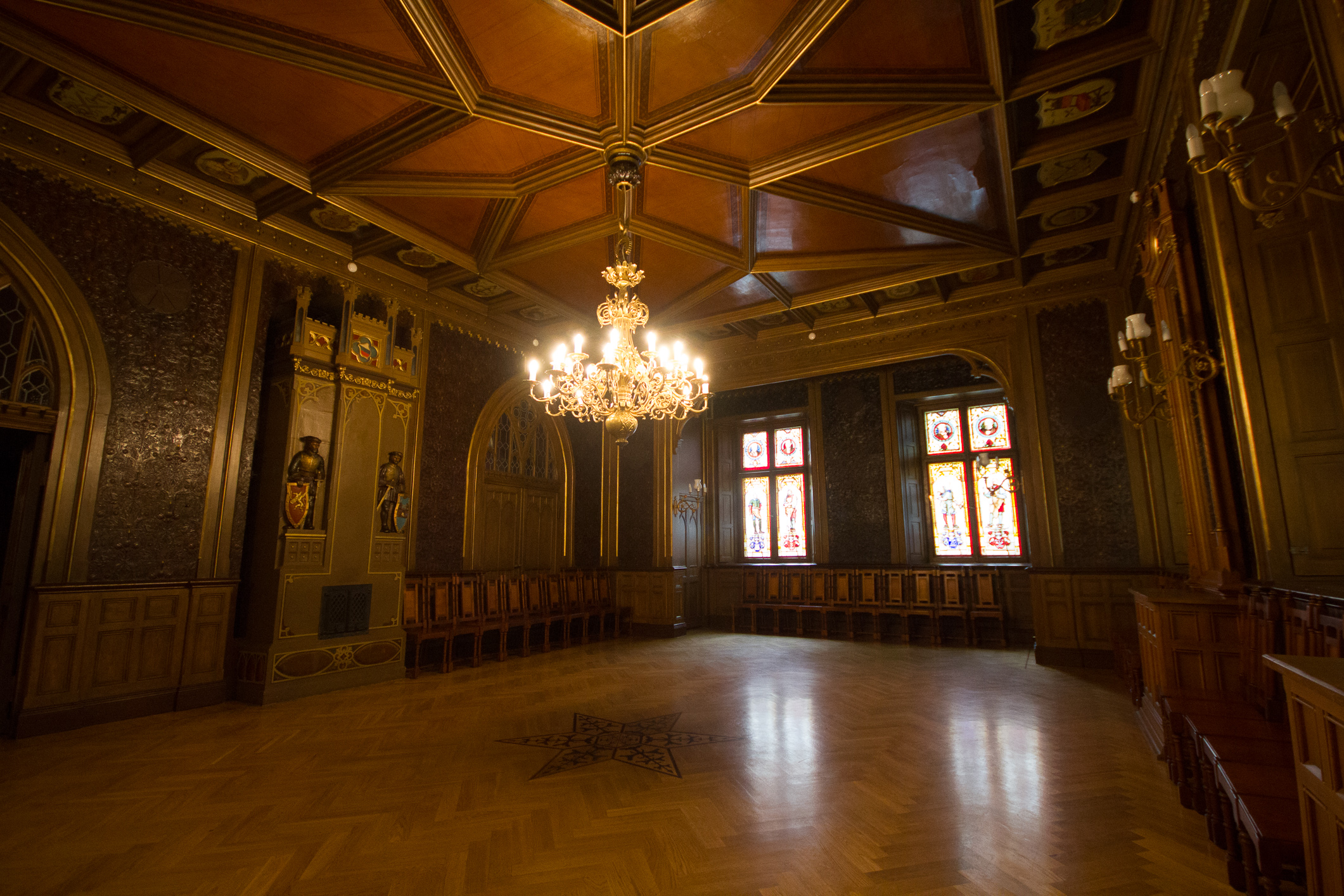 The ceiling of the senior meeting hall was painted with wax paint and gilded in 1888 (painter V. Harmsen). The coats of arms of 34 fraternities of trade and crafts are painted on metal shields and located in the plane of the ceiling.
For each of the fraternities its year of foundation is mentioned, but for some also the year until which they existed. A multi-branched brass chandelier made in 1854 is in the center of the ceiling.
All of  the original wooden decorations of 1888 have been preserved – panels, pilasters, ceiling profiles, shutters and between the windows – two pseudo-Gothic mirrors, on the walls – lincrusta wallpaper made in 1888.
In the central part of the parquet floor a star made in the inlay technique can be observed, but next to the wall – a tile stove in neo-Gothic shape with two figures holding shields with the coats of arms of Vidzeme and Riga.
All five of the hall windows contain stained glass made by A. A. Freystadtl's workshop (Atelier) in Hanover in 1888.
At the top of the stained glass windows, ten portraits of the benefactors of the Small Guild are placed in medallions. And next to the medallions the name of the benefactor and information about the nature of his gift can be read.
The lower sash of the window shows full-length portraits of the elders of ten construction-related fraternities, with the appropriate trade emblem and the surnames of the elders in German below.
Stairs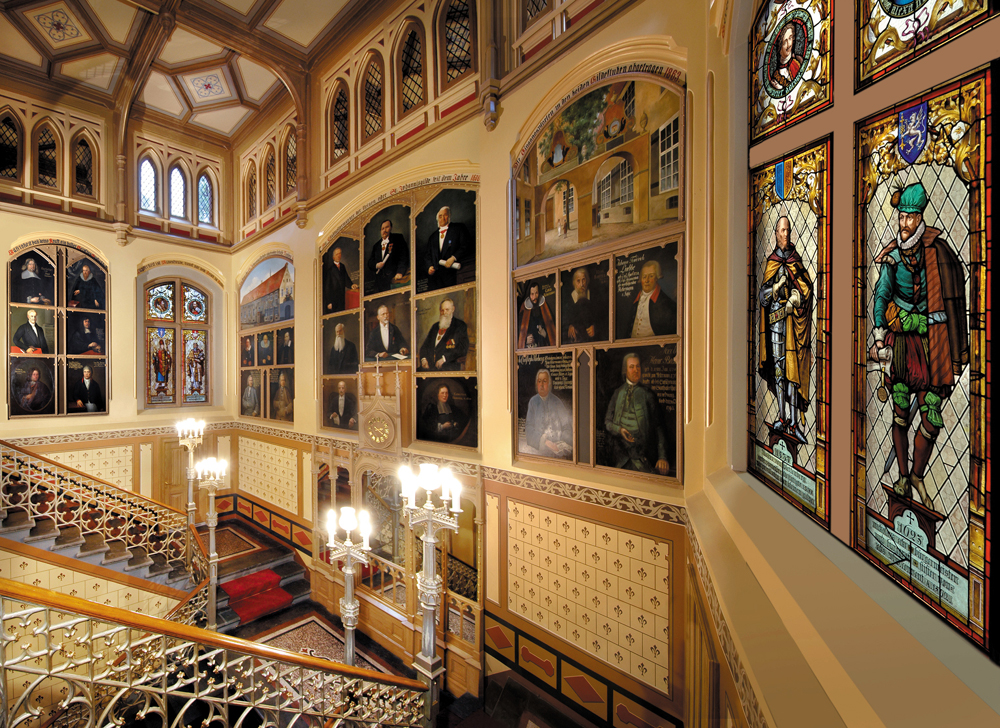 The staircase housed historical paintings with views of the old building and the Sand Gate, as well as portraits of guild eltermans. After the liquidation of the guild, these paintings were handed over to the Museum of the History of Riga and Navigation. Under the care of Lilita Laina, the director of the Riga Culture and Folk Art Center "Small Guild", copies of these paintings were made and the blanks were filled. In cooperation with the already mentioned museum, an opportunity was found to deposit the original stained glass windows created for the whole building in the Small Guild.
Large hall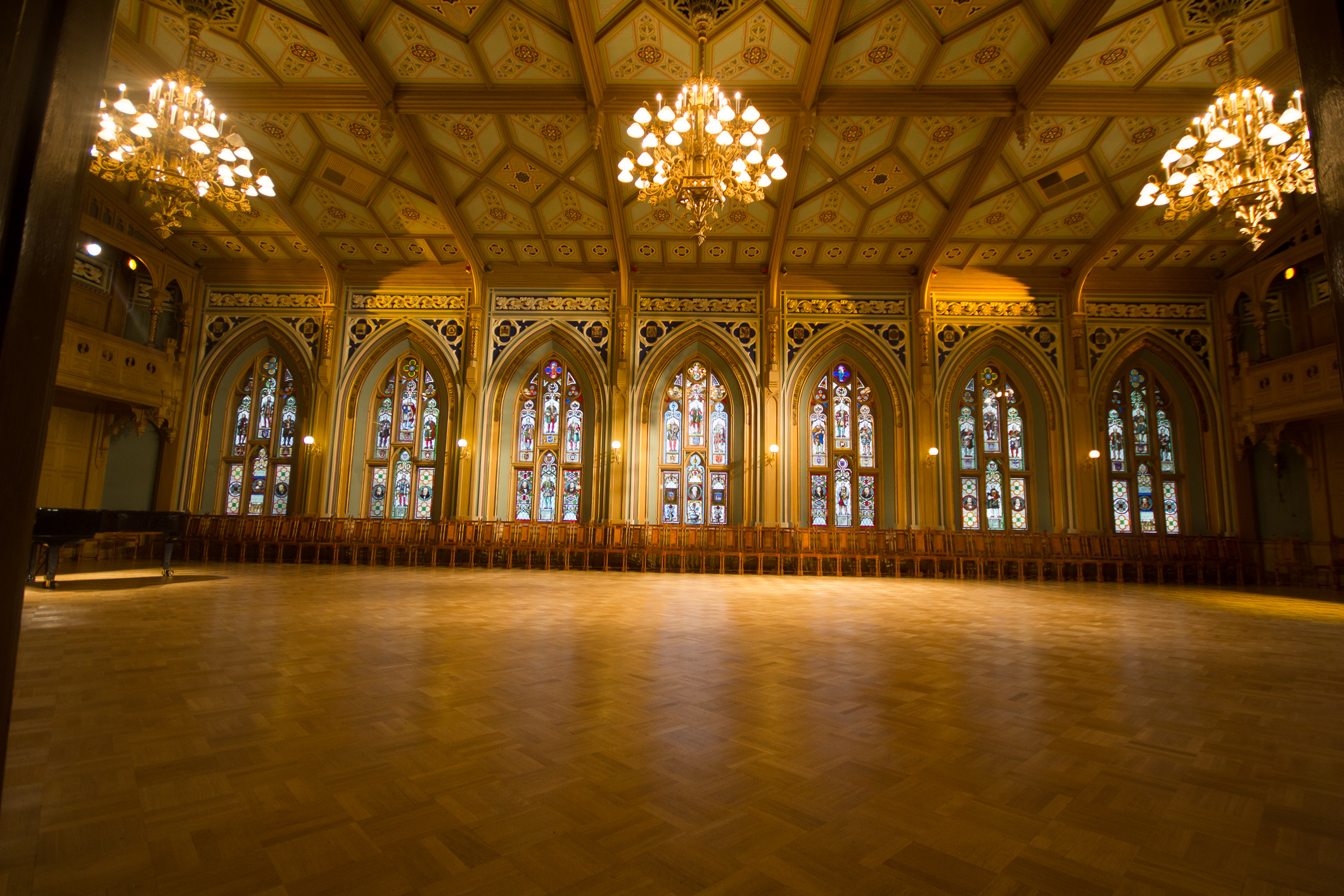 Gothic forms are used in the interior of the large hall (and the meeting halls).
The hall is richly decorated with neo-Gothic pilasters, wooden panels, painted ceilings, stained glass and paintings.
The hall has seven doorways and seven window sills. At the top of the walls are the coats of arms of various crafts, in the space above the doors – painted city panoramas (Lübeck, Bremen, St. Petersburg, Riga, Moscow, Hamburg and Rostock).
The room is illuminated by three crown chandeliers. The stained glass windows of the Great Hall, as seen today, were made in the workshop of A. A. Freystadtl in Hanover and placed in the windows of the Small Guild in 1888.
The portrait of the artist is placed in the stained glass window of the adjoining room.
There is also a stained glass portrait of Johann Daniel Felsko, the architect of the Small Guild house.
In the stained glass windows of the Great Hall, the principal place is given to the full-length portraits of the elders of 25 fraternities of different trades, in traditional costumes with appropriate emblems.
In addition, the stained glass windows housed nine stained glass portrait medallions of the benefactors of the Small Guild who had donated funds and established various charitable institutions – orphanages, shelters for widows and the disabled, benefit funds.
The sharp-bow edges of the hall's door and window openings are adorned with painted instructive aphorisms. For example: "Whoever does good to his enemy shows the highest gallantry," "Where work keeps the house safe, poverty does not enter."
The large hall has windows, doors, balconies, wooden parts of the ceiling, wall panels and shutters, preserved from 1888.
As a result of the restoration of the house, there is an opportunity to go out on to a beautiful outdoor balcony overlooking Livu Square and the front garden of the Small Guild with a metal fence, the drawing of which was reconstructed after the Guild images from 2nd part of 19th century.
The Hanseatic League Festival – Hanseatic Days in the Small Guild – took place at 16th of May from From 14.00 to 16.30 in Amatu Street, Old Riga.
During the festival, starting at 14.00 on Amatu Street and in the garden of the Small Guild, Riga residents and guests could get acquainted with medieval fashion, dance and music, as well as watch theatrical scenes of the historical time performed by the children's and youth theater studio "Vinnijs".
The medieval atmosphere is maintained by the songs from the organ grinder, the performances of the Riga Circus Studio and demonstrations of jeweler's skills.
Visitors will have the opportunity to take photos next to specially created medieval images.
In the Great Hall of the Small Guild at 15.00 a concert performance "Renaissance in dance and music" was attended by early music ensembles "Ludus" and "Canto", as well as the ancient dance group "Ballare".
Concert performance director Andris Gailis. Director of the Hanseatic Days Anna Jansone.
The Hanseatic League began to form in the middle of the 14th century. The Hanseatic League was a medieval German merchants' organization that gradually expanded into an international political union of about 300 cities from the Baltic and North Sea basins.
Its aim was to ensure the protection of mutual interests and to promote overseas trade in Northern Europe.
Eight Latvian cities of that time were part of the Hanseatic League, and Riga was one of the main Hanseatic cities.
The regular meetings of this union were called the "Hanseatic Days".
The Riga Culture and Folk Art Center "Small Guild" has a very close connection with the former Hanseatic League – paintings and coats of arms of the Hanseatic cities can be seen both in the lobby and in the halls.
The organization of the Hanseatic League celebrations in the city of Riga at the end of May has already become a tradition.
The Hanseatic Days are actively celebrated not only in Riga, but also in other cities of the Hanseatic League.
The celebration was supported by the Education, Culture and Sports Department of the Riga City Council.
Small Hall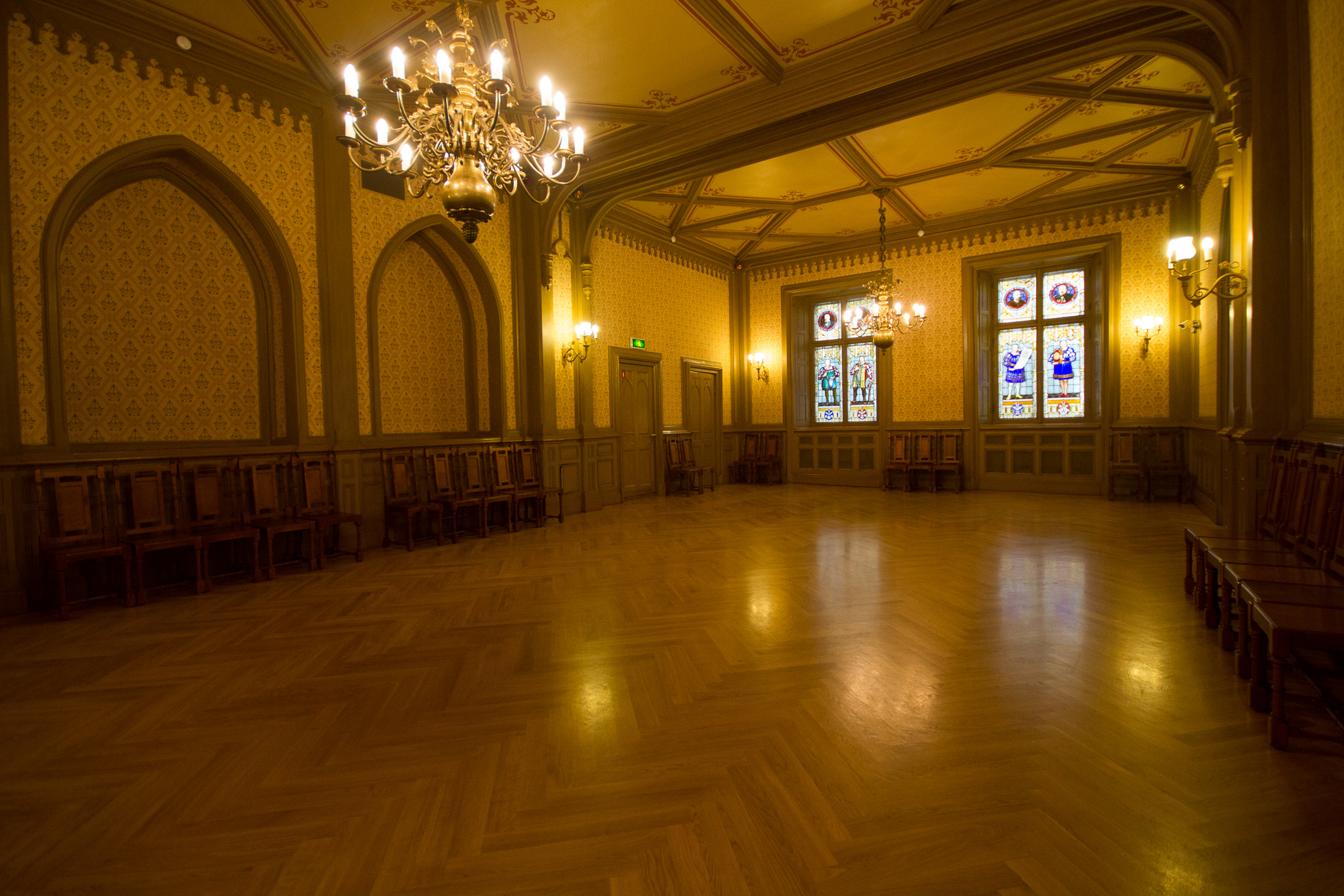 To the right of the lobby is the small hall. The different craft associations usually held their meetings in this hall, and it was also the place where the disciples, after passing the test, were transferred to the next rank, the journeyman.
In this hall, tables were set during the festivities, and therefore it was also called the dining room. In the small hall there are three brass crown chandeliers: in the middle of the hall – a gift from blacksmiths from 1735; on the right side against the entrance door, a gift from tailors from 1747; on the left in the depths of the hall a gift from the coopers from 1777.
The names of the donors are engraved on all of the crown chandeliers.
The windows also consisted of stained glass with the coats of arms of various trades, some of which were still preserved from the old house.
After a long search, they were found in the collection of the Museum of the History of Riga and Navigation, and now the stained glass windows originally designed for the Small Guild can be seen throughout the building.
Lobby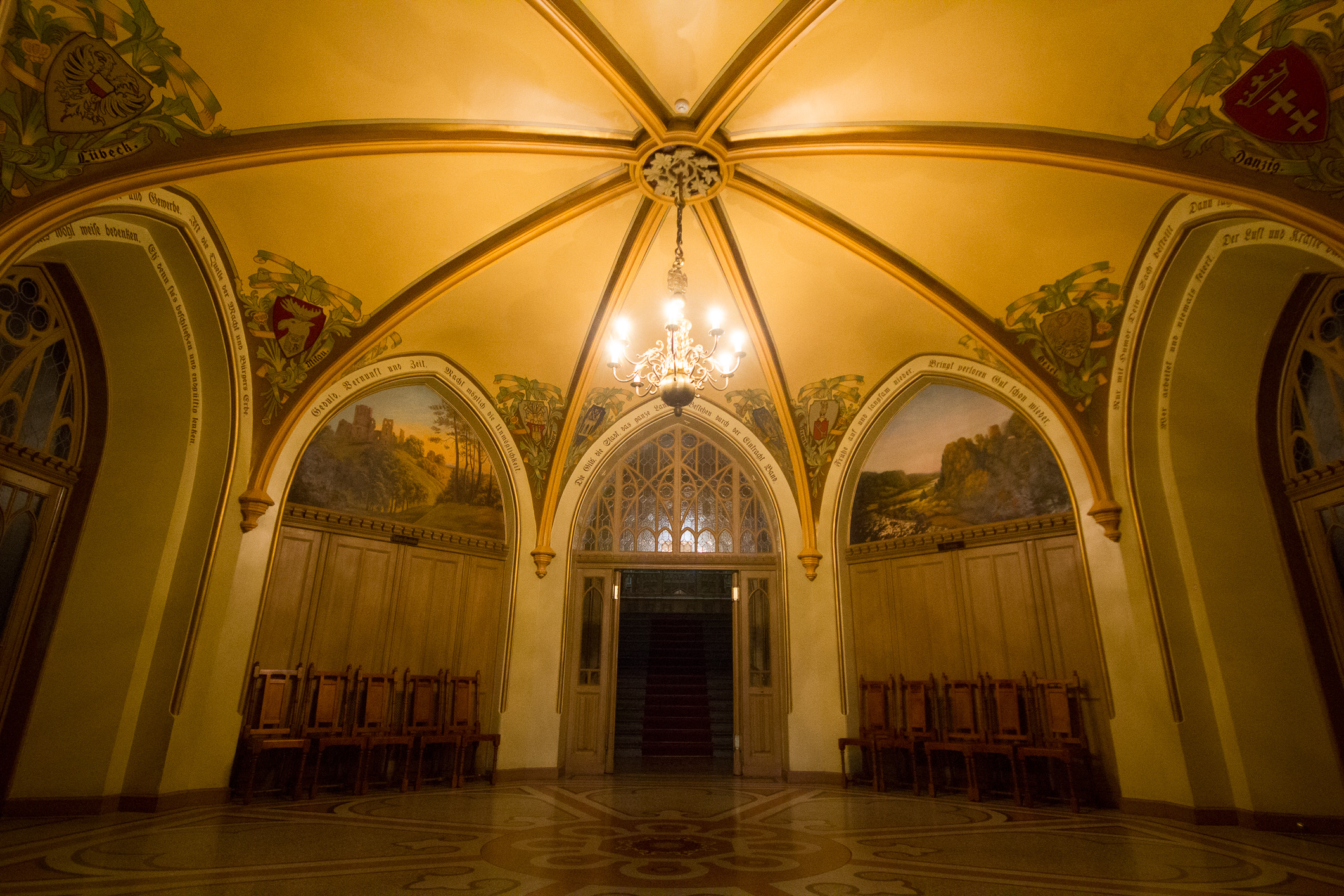 In the plan the lobby of the house is shaped as a regular octagon. Luxurious, glazed doors with skylight windows have been created in the four walls of the room.
The other four walls above the wooden panels reveal the painted landscapes of the four Vidzeme castle ruins from tsarist times (Vastselina, Turaida, Koknese and Cesis).
In the center of the room there is an eight-branch brass chandelier made in 1775. Intricate vignettes with the coats of arms of 16 cities have been restored on the ceiling.
Both the lobby and the staircase have teracco floors, made in 1888 by Italian masters from Johor Odorico in Frankfurt am Main.
An interesting detail of the interior decoration are the ancient German aphorisms, expressions and "grains of thought" in Gothic font and saturated with ancient German terms, located in practically all of the rooms.
These inscriptions serve as a unifying component of interior decor, as an ornament with artistic value, similarily to Arabic script, which only a few can read.
The Senior Room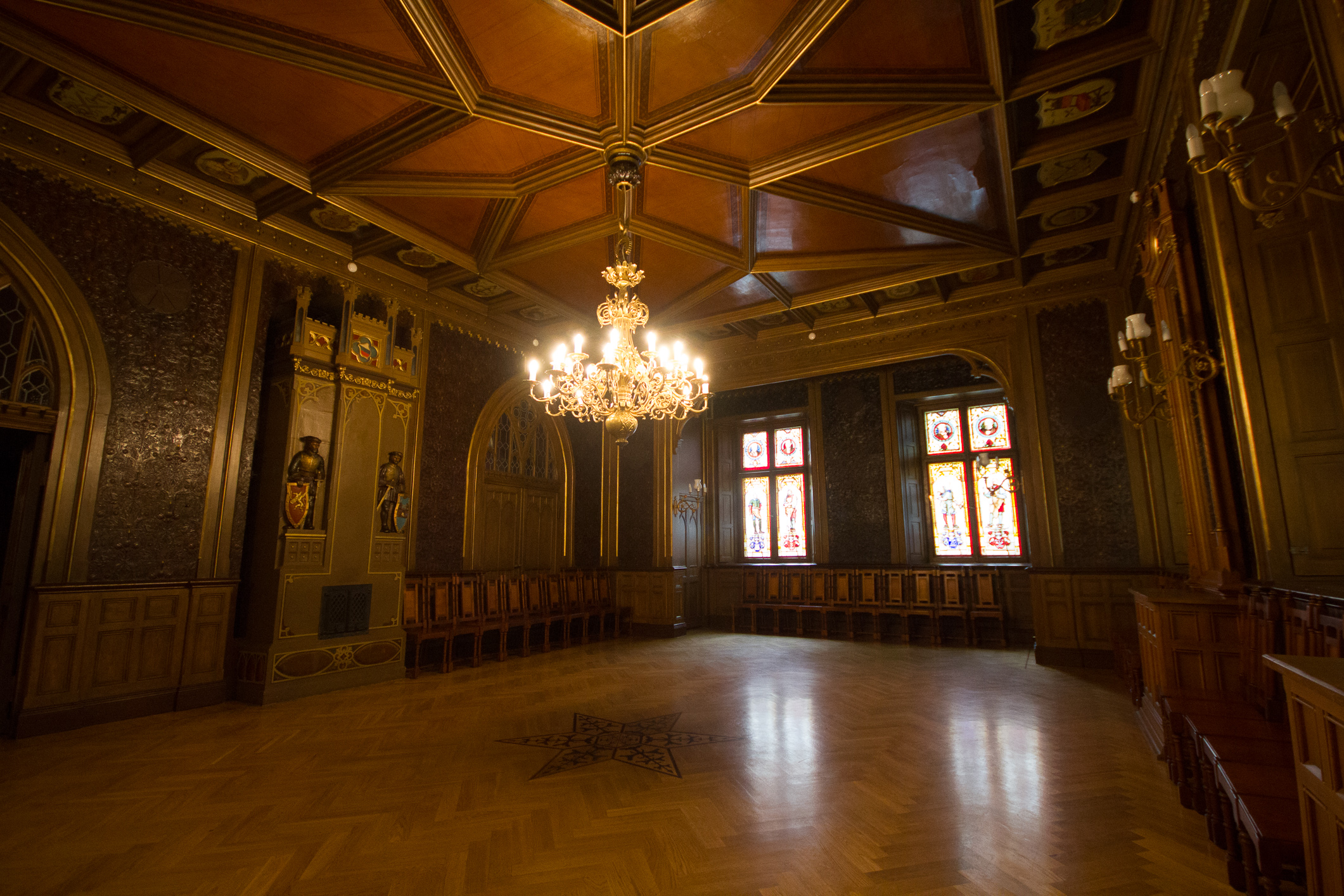 Vecāko sēžu zāles griesti 1888. gadā apgleznoti ar vaska krāsām un apzeltīti (krāsotajs V. Harmsens (Harmsen) Griestu plaknē izvietoti uz metāla vairogiem gleznoti 34 amatu brālību ģerboņi. Katrai amatu brālībai minēts tās dibināšanas gads, bet dažām arī, līdz kuram pastāvējušas. Griestu centrā iekārta 1854. gadā izgatavota daudzzaru misiņa lustra. Telpā saglabājusies visa 1888. gada koka apdare – paneļi, pilastri, griestu profili, slēģi un starp logiem – divi pseidogotiskās formās veidoti spoguļi, uz sienām – 1888. gadā izgatavotās linkrusta tapetes. Parketa grīdas centrālajā daļā redzama inkrustācijas tehnikā veidota zvaigzne, bet pie sienas – podiņu krāsns neogotiskās formās ar divām figūrām, kas tur vairogos Vidzemes un Rīgas ģerboņus. Visos piecos zāles logos atrodas 1888. gadā A. A. Freištatla (Freystadtl) darbnīcā (Atelier) Hannoverē izgatavotas vitrāžas. Vitrāžu augšdaļā medaljonos izvietoti desmit Mazās Ģildes labdaru portreti. Medaljonos ap labdara galvas portretu lasāms dāvinātāja vārds un dāvinājuma raksturs. Logu apakšējās vērtnēs redzami desmit ar celtniecību saistītu amata brālību vecāko portreti pilnā augumā, zem kuriem ir attiecīgā amata emblēma un vecāko uzvārdi vācu valodā.
The Stairs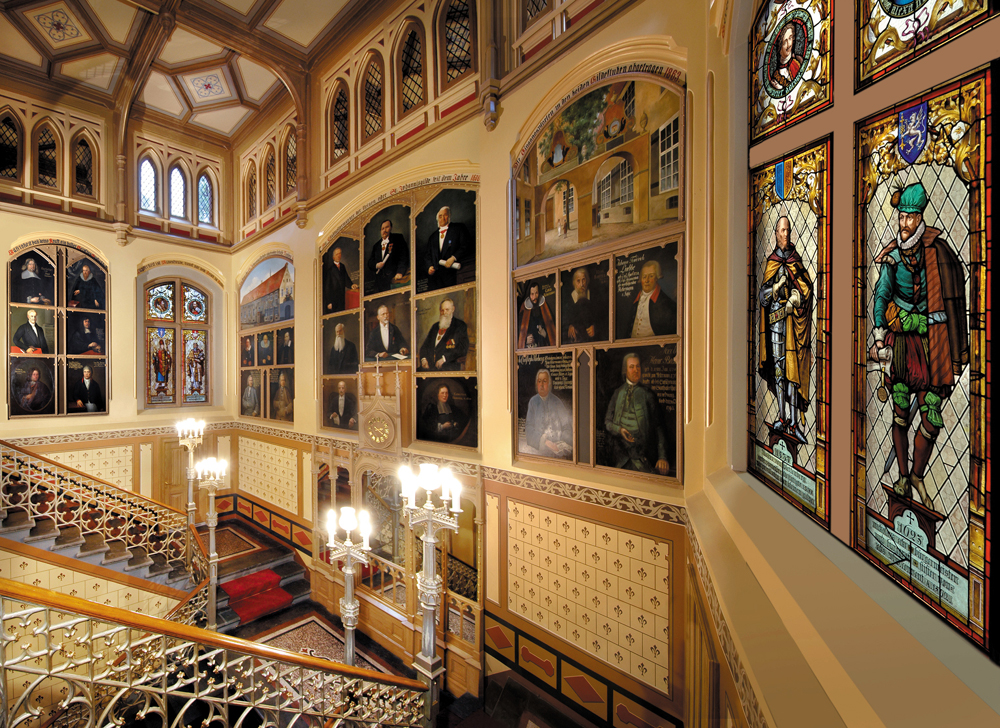 Kāpņu telpā bija ievietotas vēsturiskas gleznas ar vecās ēkas un Smilšu vārtu skatiem, kā arī ģildes eltermaņu portretgleznas. Šīs gleznas pēc ģildes likvidācijas tika nodotas Rīgas Vēstures un kuģniecības muzejam. Ar Rīgas Kultūras un tautas mākslas centra "Mazā ģilde" direktores Lilitas Laines gādību, tika izgatavotas šo gleznu kopijas un aizpildītas tukšās vietas. Sadarbībā ar jau minēto muzeju tika rasta iespēja Mazajā ģildē deponēt visai ēkai veidotās oriģinālās vitrāžas.
The Grand Hall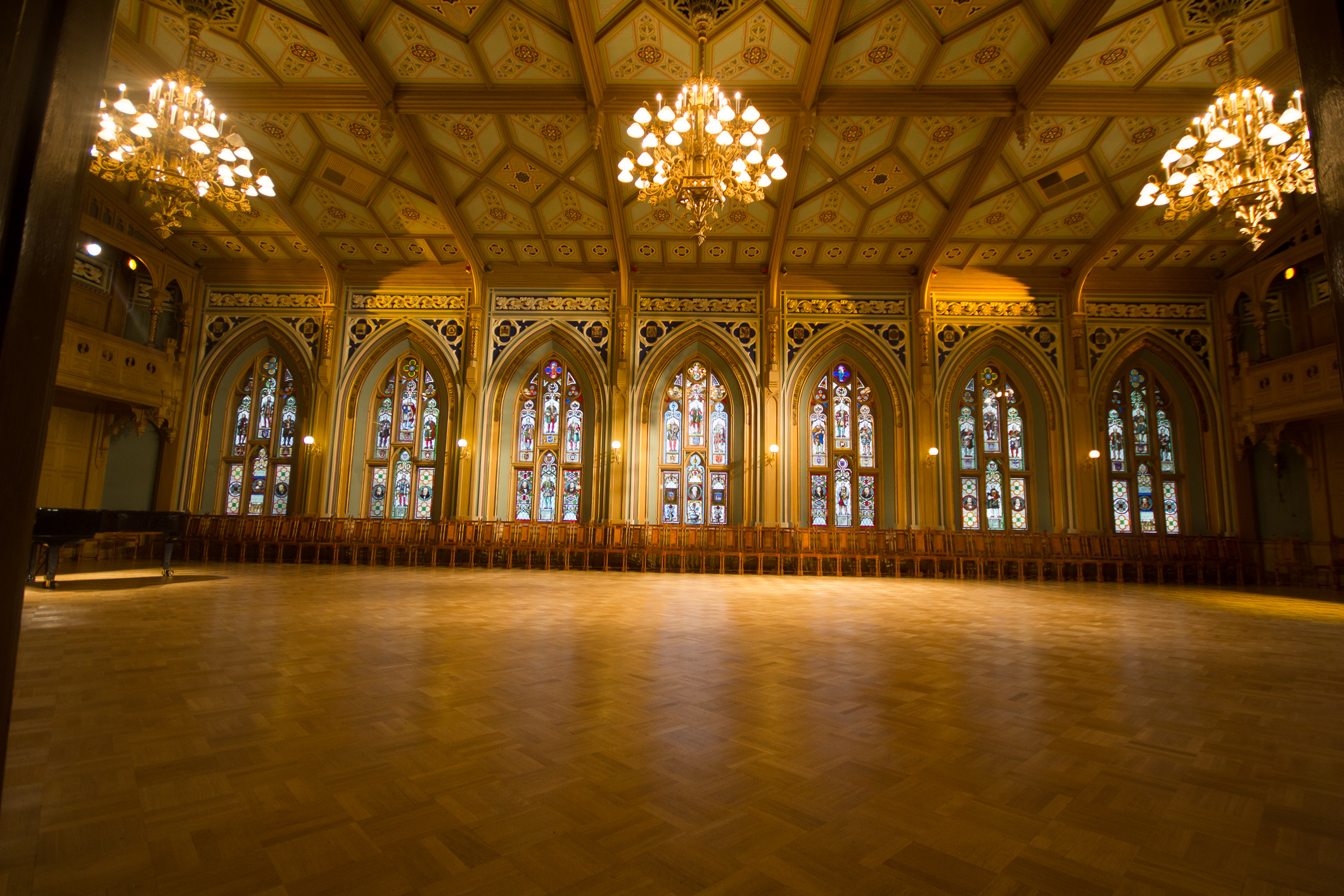 Lielās zāles (sapulču, ari sanāksmju zāles) interjerā izmantotas gotiskās formas. Zāle bagātīgi dekorēta ar neogotiskiem pilastriem, koka paneļiem, krāsotiem griestiem, vitrāžām un gleznojumiem. Zālei ir septiņas durvju un septiņas logu ailas. Sienu augšmalā izvietoti dažādo amatu ģerboņi, laukumos virs durvīm – gleznotas pilsētu panorāmas (Lībeka, Brēmene, Pēterpils, Rīga, Maskava, Hamburga un Rostoka). Telpu apgaismo trīs kroņlukturi. Šodien redzamās Lielās zāles vitrāžas izgatavotas A. A. Freištatla (Freystadtl) darbnīcā Hanoverā un ievietotas Mazās Ģildes logos 1888. gadā. Mākslinieka portrets ievietots blakustelpas loga vitrāžā. Turpat redzams arī Mazās Ģildes nama arhitekta Johana Daniela Felsko vitrāžas portrets. Lielās zāles logu vitrāžās galvenā vieta ierādīta tolaik pastāvošajiem 25 dažādu amatu brālību vecāko portretiem pilnā augumā, tradicionālos tērpos ar attiecīgām amata emblēmām. Bez tam vitrāžās ievietoti deviņu Mazās Ģildes labdaru, kuri bija ziedojuši līdzekļus un dibinājuši dažādas labdarības iestādes – bāreņu namu, atraitņu un nespējnieku patversmes, pabalsta fondus, vitrāžu portretmedaļjoni. Zāles durvju un logu aiļu smailkoku apmales grezno uzgleznoti pamācoši aforismi. Piemēram: "Kas savam ienaidniekam labu dara, tas parāda augstāko cēlsirdību", "Kur darbs sargā māju, tur nabadzība neiekļūst". Lielajā zālē saglabājušies 1888. gada logi, durvis, balkoni, griestu koka daļas, sienu paneļi un slēģi. Nama restaurācijas rezultātā, radusies iespēja iziet uz skaistu āra balkonu ar skatu uz Līvu laukumu un Mazās Ģildes priekšdārzu ar metāla žogu, kura zīmējums rekonstruēts pēc 19. gs. 2. puses Ģildes attēliem. 16.maijā no plkst. 14.00 līdz 16.30 Amatu ielā, Vecrīgā notika Hanzas savienības svētki – Hanzas dienas Mazajā ģildē. Sākot no plkst. 14.00 svētku laikā Amatu ielā un Mazās ģildes dārziņā Rīgas iedzīvotāji un viesi varēja iepazīt viduslaiku modi, dejas un mūziku, kā arī vērot tā laika teatralizētas sadzīves ainas bērnu un jauniešu teātra studijas "Vinnijs" sniegumā. Viduslaiku atmosfērā iejusties palīdzēja ļauslejerkastnieka dziesmas, Rīgas cirka studijas priekšnesumi un rotkaļa prasmju demonstrējumi. Apmeklētājiem būs iespēja fotografēties pie īpaši izveidotiem viduslaiku tēliem. Plkst. 15.00 Mazās ģildes Lielajā zālē koncertuzvedums "Renenanses laiks dejā un mūzikā", kurā piedalījās senās mūzikas ansambļi "Ludus" un "Canto", kā arī seno deju grupa "Ballare". Koncertuzveduma vadītājs Andris Gailis. Hanzas dienu svētku režisore Anna Jansone. 14. gadsimta vidū sāka veidoties Hanzas savienība. Hanzas savienība bija viduslaiku vācu tirgotāju organizācija, kas pakāpeniski paplašinoties kļuva par starptautisku Baltijas jūras un Ziemeļjūras baseina zemju un apmēram 300 pilsētu politisku savienību. Tās mērķis bija nodrošināt savstarpējo interešu aizsardzību un veicināt pārjūras tirdzniecību Ziemeļeiropā. Astoņas tā laika Latvijas pilsētas ietilpa Hanzas savienībā, turklāt Rīga bija viena no galvenajām Hanzas pilsētām. Šīs savienības regulārās sanāksmes tika sauktas par "Hanzas dienām". Rīgas Kultūras un tautas mākslas centram "Mazā ģilde" ir ļoti cieša saistība ar kādreizējo Hanzas savienību – gan vestibilā, gan arī zālēs ir redzami Hanzas pilsētu gleznojumi un ģerboņi. Hanzas savienības svētku organizēšana Rīgas pilsētā maija beigās ir jau kļuvusi par tradīciju.Hanzas dienas tiek aktīvi atzīmētas ne tikai Rīgā, bet arī citās Jauno laiku Hanzas savienības pilsētās. Svētku norisi atbalstīja Rīgas domes Izglītības, kultūras un sporta departaments.
The Small Hall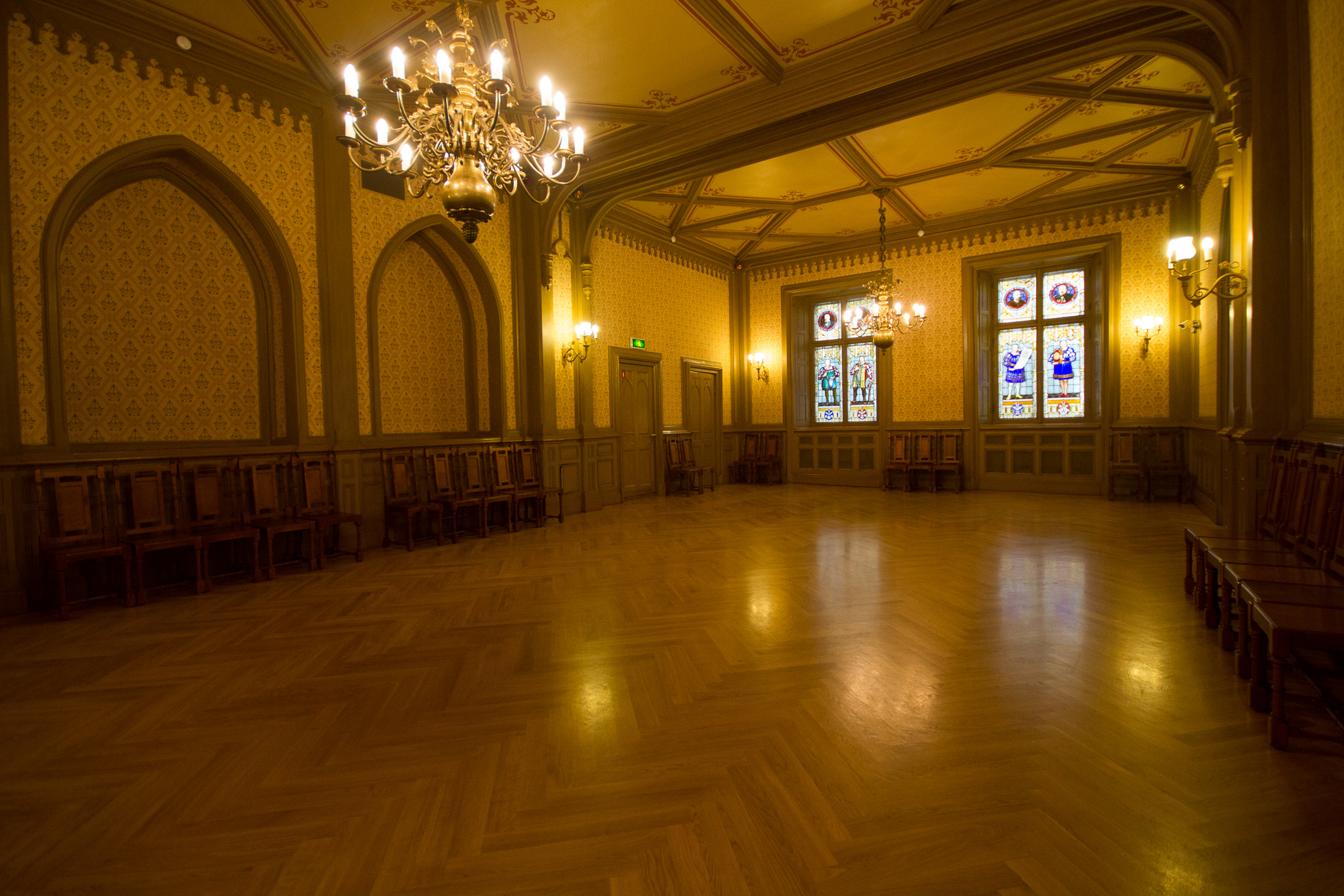 Pa labi no vestibila atrodas mazā zāle. Šinī zālē parasti savas sanāksmes noturēja cunftes, un šī zāle bija arī tā vieta, kur mācekļus pēc pārbaudījuma izturēšanas pārcēla nākamajā ranga pakāpē – par zeļļiem. Šinī zālē svinību laikā klāja galdus, un tādēļ to sauca arī par ēdamzāli. Mazajā zālē iekārti trīs misiņa kroņlukturi: zāles vidū kalēju amata dāvinājums no 1735. gada; labajā pusē pret ieejas durvīm drēbnieku amata dāvinājums no 1747. gada; kreisajā pusē zāles dziļumā mucinieku amata dāvinājums no 1777. gada. Visos kroņlukturos iegravēti dāvinātāju vārdi. Logos bija arī vitrāžas ar dažādu amatu ģerboņiem, kuras pa daļai vēl bija saglabājušās no vecā nama. Pēc ilgiem meklējumiem tās izdevās atrast Rīgas Vēstures un kuģniecības muzeja krājumā, un pašlaik Mazajai ģildei sākotnēji projektētās vitrāžas ir apskatāmas visā ēkā.
The Lobby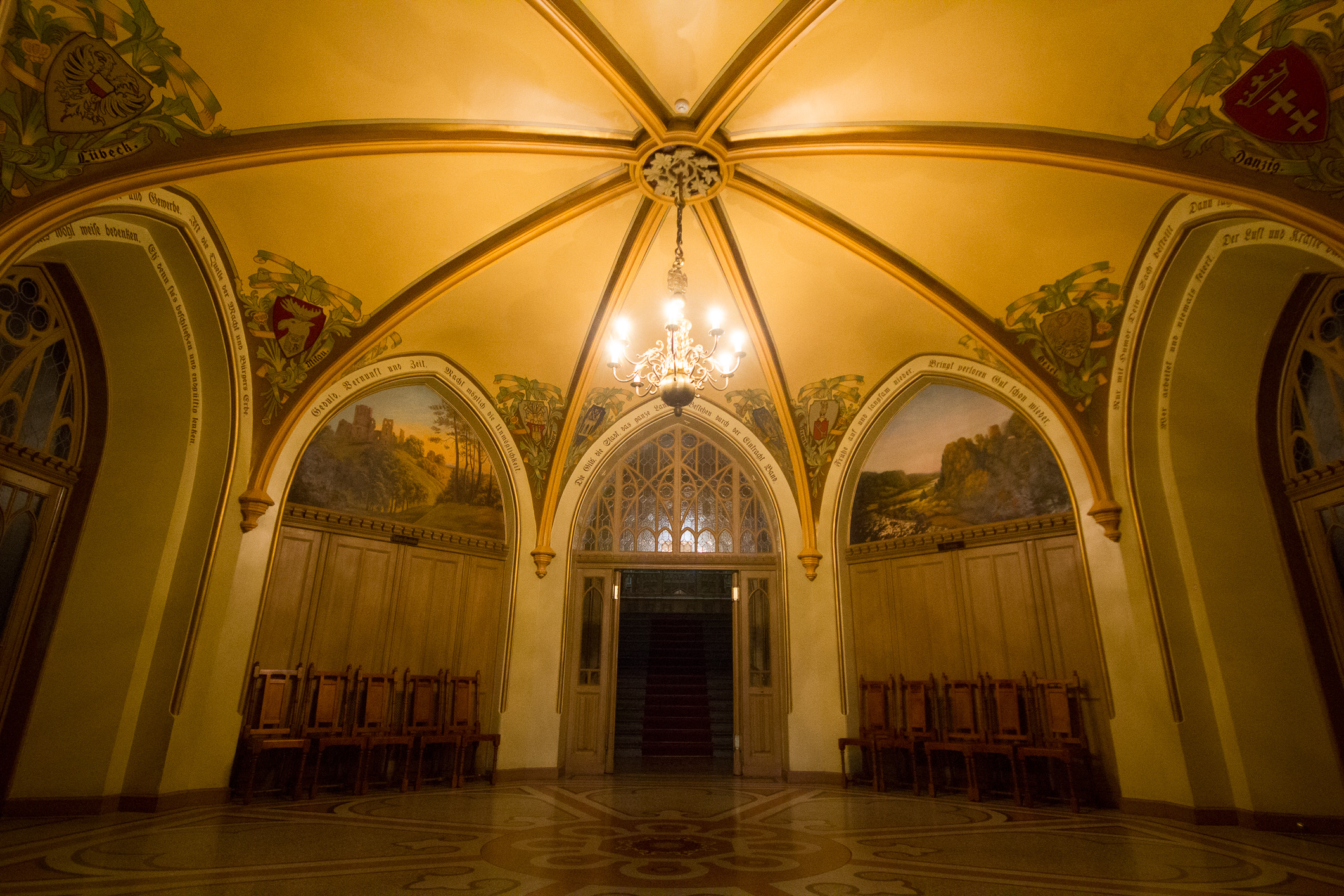 Nama vestibils plānā veido regulāru astoņstūri. Četrās telpas sienās izveidotas greznas, stiklotas durvis ar virslogiem. Pārējās četrās sienās virs koka paneļiem atsegtas iegleznotās četru cara laika Vidzemes pilsdrupu ainavas (Vastselīna, Turaida, Koknese un Cēsis). Telpas centrā iekārta 1775. gadā darinātā astoņu žuburu misiņa lustra. Uz griestiem restaurētas sarežģītas vinjetes ar 16 pilsētu ģerboņiem. Gan vestibilā, gan kāpņu telpā ir teracco grīda, kuru izgatavoja Johana Odoriko (Odorico) firmas Frankfurtē pie Mainas itāļu meistari 1888. gadā. Interesanta iekštelpu apdares detaļa ir praktiski visās telpās izveidotie senvācu aforismi, izteicieni un "domu graudi" gotiskā šriftā, piesātināti senvācu terminiem. Šie uzraksti kalpo par interjeru dekora vienojošu sastāvdaļu, par ornamentu ar māksliniecisku vērtību, līdzīgi kā arābu raksti, kurus spēj izlasīt tikai nedaudzi.